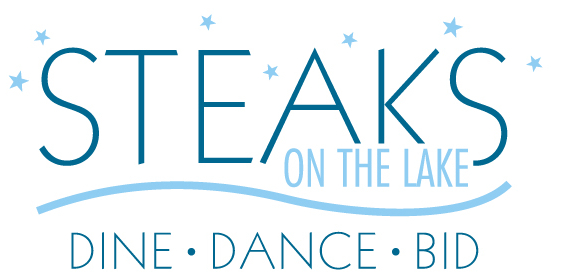 Friday, November 16, 2018
7 to 11:30 p.m.
The Bomb Factory
2713 Canton Street • Dallas


Casual Party Attire
Steaks on the Lake is the most fun you can have for a good cause!

Join us for an incredible Friday night, featuring a delicious steak dinner, live music by Downtown Fever and a fabulous auction at The Bomb Factory in the heart of historic Deep Ellum in Downtown Dallas.
Space is limited! Reserve your sponsor table today or purchase individual tickets today.
More event details and
silent auction items coming soon!
.
Co-Chairs

---

Polly and Mike Campbell
Susan and Evan Griffiths
Bev and Alan Vuckovich



Honorary Chairs

---

Tori and Roy Serpa





Event Committee

---

Annie Bendalin
Chris Berry
Robin Burch
Jessica Carney
Angie Christon
Annie Davenport
Crista De Bruyn
Shannon DeVilbiss
Stefani Eisenstat
Hala Elsherbini
Mari Epperson
Julianne and Jason Evans
Amanda Francis
Isabelle Guillen
Jennifer Gunnin
Sharon Hall
Alan and Cindi Halliburton
Cynthia Hanthorn
Mary Beth Harrison
Emily Horton
Haley Hoyle
Laura Hoyle
Delia Johnson
Nancy Lacey

Stephanie Lindley
Cheri Martin
Paula Mitchell
Jackie Moore
Judy Nelson
Jan and Scott Osborn
Camille Owens
Linda and Dan Paez
Cheryl and Frank Parker
Sally and Mike Pearson
Julia and Matt Pickett
Beth Quint
Debi Ransom
Joyce Rogge
Cassandra Rozinsky
Rick Selah
Beth Shanafelt
Susan and Robert Sugerman
Phil Van Guilder
Dee Velvin
Kyle Wells
Amye and Steve Wilson
Tiffany Wines
Lynn Wisdom


As of July 17, 2018




Great things are happening at Grant Halliburton Foundation every day. Follow us!



Grant Halliburton Foundation works to strengthen the network of mental health resources for children, teens and young adults; promote better mental health; and help prevent suicide. The Foundation provides mental health education, training and support to more than 31,500 students, educators, parents and professionals annually.

6390 LBJ Freeway, Suite 100 • Dallas, Texas 75240 • 972.744.9790 • GrantHalliburton.org • A 501 (c)(3) nonprofit organization